Being a firm believer of sustainable practices I should have done this post earlier but 'better late than never' as they say.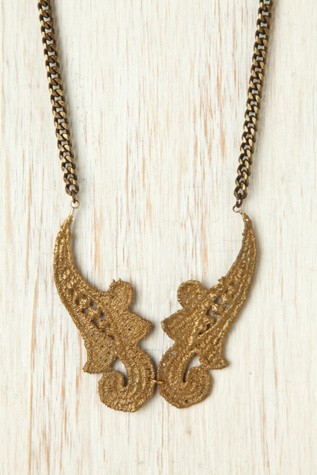 Cut and spray paint a paisley doily and
attach a chain with jump rings.
photo
Why not DIY when it helps you relax and takes away your mind from daily grind. Majority of us work as in do a job. Whatever we do and achieve we get paid for it. But sometimes if you think at the end of the day what did you do for yourself, the answer is blank. Doing your DIY projects gives you that sense of achievement and satisfaction which never can be attained from a regular job.
Why to spend big bucks buying straight from a showroom or a website when you can create the same thing with your own talented hands. Well, some will say it is easy to buy and who has time and resources. But, if you consider the fact how we are ripped sometimes for simple diyable things and how little time and organisation it requires to DIY, the concept of DIY starts making sense.
Why not DIY when you have hidden treasures in your cupboard/wardrobe that can be recycled and upcycled to create something totally different. It gives your wardrobe a fresh lease of life by getting rid of old and worn and by adding something fresh and trendy.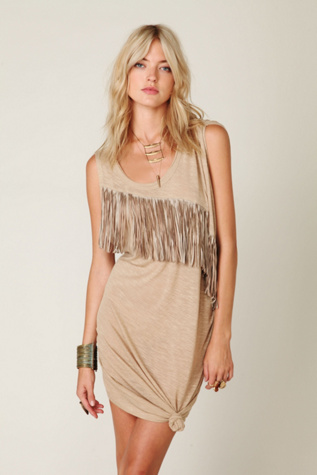 Raid your wardrobe for an Tee/Dress
and add fringe to keep up with fringe trend photo
Why to waste money on buying when trends change so quick. We all like to own pieces that are in fashion and believe me it is hard to do massive purchases every season to keep up with trend. So, why not modify things you already have or collect supplies and make your own and look trendy.
Why not to think about our ecological footprint when we all know how much environmental degradation we have already caused.
Why not use loads of inspiration floating all around us and get the satisfaction of creating our own.
So, why not DIY!!! I have to be a fool to miss any opportunity of DIY.
Take a sharpie pen and draw leopard print on old shoes or use
this stencil
and spray paint to keep up with snake skin trend.